Product Line
From several of the most well renowned brands in the Hispanic frozen food market we are proud to offer you our products of distribution below.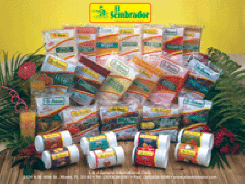 Fruit Pulps: Cubanita suggest you try a delicious and healthy smoothie made from fresh packed fruits. Imported from paradise and sweetened by the sun, El Sembradors fruit pulps will speed you off to the islands or any tropical region of Latin America you desire. However, do not stop with smoothies. Cubanita has chosen El Sembradors brand that has collected these ripe, delicious fruits exclusively for your use with any recipe, or for any occasion, you may want.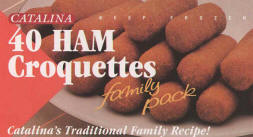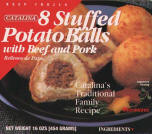 CATALINA Products: Tamales, made up of corn and tender pieces of lightly seasoned pork have made this brand a trademark. Croquettes are home-style delights filled with ham, chicken, & cheese. Papa rellena are spherical shaped potato balls stuffed with beef and pork filling. Yuca rellena is the larger version of a croquette only it is stuffed with a beef and pork filling.
For a full listing of products, "click here" -> Product listings
---
Finally, you can make your own turnovers without the effort of making perfect dough. Our dough for pastries line of products is specially textured and already set to go for you. While the Cubanita brand captures "es la mas sabrosa," or "it's the tastiest," we are relating to the quality in frozen dough. Our brand is one of the top marketers of dough used in traditional Hispanic baked or fried goods.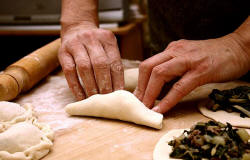 Since first being introduced to the market, back in the early eighties, our highly regarded discos (dough for pastries) have been the ideal product for making empanadas (turnover pastries). Their multipurpose use suits perfect for just about every occasion, it is a versatile product, which enables you to fix-in a wide variety of pastries, whether it be the traditional meat turnovers to trendy fruit pockets to filling them with your special secret recipe. These high regarded discos are perfectly suited for a meal or snack an alternative to takeout sandwiches, fast foods, and sweets. Our discos provide homemade like taste, in doing so we have carefully selected premium, but just fine ingredients that will enable you to create and/or prepare these dough shells for your favorite filled pastry.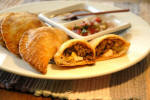 As our discos become more popular fixing a quick breakfast, lunch, or snack idea they not only appeal to cafeteria stands, but also attract the conscious eateries and diners whichever the purpose maybe; there deliciously unique taste and distinct flavor are sure to please your customers as well as for families at dinner tables.