Accessories
Well, now you too can easily make empanadas than ever before, by using our Crimping tool. This tool enables you to close, crimp and seal your empanadas once you're done filling them. The "crimp-n-seal" feature enables you a neat consistent crimp all around, as well as the tight seal closure, yet is compatible with all our dough types & sizes.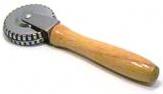 Crimping tool
Description
Our crimping tool is similar to a rolling-bladed wheel with a fluted design measuring in overall 7" in length, equipped with a wood handle.

The main feature in this tool consists of a slotted wheel which pushes two pieces of dough together adding a decorative edge marking.

Alongside is a round blade cutter, which cuts and seals at the same time while in rolling motion.
Tips
For more information, please contact our sales department by emailing us directly at: barbozafoods@bellsouth.net